Chasey Lain

Birthdate:
December 7, 1971
Sexual Orientation:
Bisexual
Aliases:
Chasey Laine, Chasey Lane, Tiffany Anne, Tiffany Jones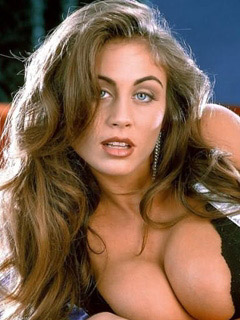 Chasey Lain Biography
Before the likes of Jenna Jameson and Briana Banks, there was the talented Chasey Lain. This stunning beauty is often referred to as the most beautiful woman in the adult industry. Born in North Carolina, Chasey moved to Florida following her 18th birthday and began a career as a stripper. While in Florida, she was introduced to pornstar Alexis De Vell who was taken back by Chasey's beauty and suggested she perform in adult movies. Chasey took the advice of Alexis and quickly moved to California to begin one of the most famous pornstar careers we've ever seen.
Upon ariving in the Golden State, Wicked Pictures spotted her and signed her to an exclusive contract. Her first porn flick was a lesbian film called Wild at Heart that debuted in 1991. Following some other successful movies, Chasey starred in her first hardcore video called The Original Wicked Woman which documented her before and after her breast enhancement surgery. She continued performing for Wicked Pictures until 1994 when she was signed by Vivid Entertainment as a contract girl. There she was featured in some of her most notable roles including Chasey Loves Rocco, Chasey Saves the World and the Chasin Pink series which featured Chasey in her own line of lesbian themed porn movies. After finishing up the final installment of the Chasin Pink series (Chasin Pink 6) in 2002, Chasey took a two year break from making adult films before coming back in 2004 to star in Chasey's Back. This led to another run of succesful xxx movies including Jenna's Tough Love (w/ Jenna Jameson) and Chasey Lain Smokin'. This also saw the start of her appearing in interracial porn films such as Black in White 2 with Mr. Marcus that was released in 2005.
Inducted into the AVN Hall of Fame in 2003, Chasey Lain has enjoyed remarkable success throughout her career. She is considered one of the most popular adult film stars of our generation and enjoyed success in multiple decades. Her laid back, easy going style in her performances is unmistakable and accounts for many of her films winning adult industry accolades. While some would call her style boring, others prefer to view it as natural and a change of pace from the over-acting seen by other pornstars. Chasey launched her own company in February of 2007 called Forbidden Cinema which will produce her highly anticipated return to the adult industry, Chasey Reloaded.
Success in the porn industry has carried over to mainstream as she's appeared in major motion pictures such as He Got Game, Orgazmo, and Tales From The Crypt Demon Knight. Her name was used in a Bloodhound Gang song called "The Ballad of Chasey Lain" which described a psychotic fan who writes her sexually charged letters. Her elegant look has made her a mainstay in adult movies for years and ushered in a new breed of pornstars that are both sexually talented and beautiful.
Visit Chasey Lain's Website
Chasey Lain Filmography
4 A Good Time Call
5 Star Chasey
Amazing Facials 19
American Dream Girls 22
And The Envelope Please - Chasey
Ass Basket
Ass, Food, Lodging
Assfest 3000
Beach Blanket Bang Me
Beat Off to the Off Beat
Best of Cum 33
Big Busted Dream Girls
Big Dick Little Chick 13
Big Dick Little Hick
Bikini Top Gonna Pop
Black In White 2
Busty Biker Babes
Camel Toe
Camel Toe Jockey
Captured on Camera
Charlie In Charge
Charlie's Girls
Chasey Lain, Superpussy
Chasey Loves Rocco
Chasey Reloaded
Chasey Saves the World
Chasey, Revealed
Chasin' Pink
Chasin' Pink 2 - Creepshow
Chasin' Pink 3 - 911
Chasin' Pink 4 - Superhero
Chasin' Pink 5
Chasin' Pink 6
Chasin' Pussy
Chasin' the Fifties
Chicks Who Love Caulk
Coffee and Cream
County Line
Covergirl
Cow Tipping
Cum to Me
Daily Nudes
Dairy Made
Deep Inside Alexis Christian
Deep Inside Chasey Lain
Deep Inside Janine
Desperately Horny Housewives
Domination
Double Dippin' Dykes
Dueling Chicks
Dyke Hike
Eatin at the Y 2
Engaged
Execu-Comp 169
Extreme Close Up - Sky
Film Buff
Freak
Fucking Rich 3
Gaza Strip
Girls Only - Alexis Christian
Girls Only - Dyanna
Hauling and Balling
Hawaii
Heads Up, Honolulu
Heeeeere's Chasey!
Heeeeere's Kobe!
Hollywood Orgies - Jenna Jameson
House on Chasey Lane
Hung Like A Horse
I Sold My Hole for Rock and Roll
I'm Into Asians
Internal Affairs
Interview with a Vibrator
Jenna Jameson Revealed
Jenna Jameson Untamed
Jill Kelly, Superpussy
Jingle Balls
Joined At The Tit
Lethal Affairs
Let's Play Lick the Can
Loads of Rocco
Lord of the Fly
Mahalo Swallow
Menage A Toy
Michael Ninn's Sex
Missy - Up Close & Personal
Monsters of Cock Peter North
Nasty as I Wanna Be - Chasey
New Wave Hookers 4
Nice, the Naughty, and the Bad
Nymph
Once In a Lifetime
Open 4 Business
Original Wicked Woman
Peepshows 17 - Orgy Express
Perfect Ten's
Pointing North
Porn Pops - Sugar Frosted Cumshots!
Queen of Diamonds
Queen of the Damned
Real Tickets 1
Real Tickets 2
Restrained By Desire
Rocco - Mayor of Big Cock
Rocco Rocks
Rocco, Mentor to Millions
Satisfaction Guaranteed - Chasey Lain
Schuck My Clam
Scrue
Sex & Sex 2 Fate
Sex 1
Sex 2 - Fate
Sex and Sex 2
Sex Zone
Shaggin' In the Shower
Spending the Night With Chasey
Squeeze
Stick Up
Strictly for Pleasure
Stunt Cock Bonanza
Submission
Summer Lovers
Sweet 'Ho Alabama
Taste of Chasey Lain
Teachers Pet
Testy, Testy, Testi
The Complete Dildo
The Essential Chasey
The New Royals - Cassidey
The New Royals - Chasey
The New Royals - Kobe Tai
The Nice, The Naughty, And The Bad
The Real Chasey Lain
The Real Nikki Tyler
The Secret Life of Chasey
Tomfoolery
Tons of Tits
Trashy
Tropic of Passion
Twisted Visions
Ultimate Charlie
Ultimate Chasey Lain
Ultimate Kobe Tai
Ultimate Threeway
Under Contract - Chasey Lain
Viewpoint
Vivid Girl - Janine
Vivid Superstars - Chasey
Vivid's Bloopers and Boners
Vivid's Hall of Fame - Chasey Lain
Waikiki Wack-Off
Where the Boys Aren't 9
White Wedding
Wicked as She Seems
Wicked at Heart
You Doggin' Me
Young Jill Kelly
Young Tammi Ann
Your Crack Is My Snack